Hello and welcome to the Ladybird Blog!
Week 1 Star Of The Week
This week our super star is Hassan for problem solving when using scissors and making a choice to make his task easier. Hassan tried different types of easy grip pincer scissors to cut the pieces of paper. He tested them by squeezing the handles together and chose the pair that didn't need to be squeezed very hard. Well done for working out a solution.
Term 2 - Week 1
Ladybirds have had a busy 3 days back after the half term, we have investigated how to turn on battery operated light sources, had a 'bonfire,' splashed in puddles and made firework star biscuits.
Term 2 Overview for Ladybird Class
Week 8 Star Of The Week
This week our super star is George for Pumpkin investigation....whole, cut, seeds and cooked. He used all his senses to explore the different textures.
The Great Ladybird Bake off!!
Cooking Fun!
We have had great fun in week 8 making bat and pumpkin biscuits, then decorating them with chocolate and sprinkles. All the children joined in with mixing the flour, sugar and butter in their own bowl, some with a spoon and some with their fingers! Investigating how the materials changed when combined together. Rolling and stamping were the next stage then cooking. Thank you George for helping with the washing up.
Decoration stage......
The children showed their preferences for touching and tasting the liquid chocolate...... some hated it but the majority loved the taste and texture! The sprinkles were a big hit alongside licking their spoons clean.
Week 8
The children have been busy this week with lots of spooky activities and investigations. Pumpkins and coloured rice were a key feature! The Halloween rice was a big hit alongside the cut pumpkins, but we only had one taker for touching the cooked version.
24.10.19
Everyone looked fantastic in their spooky costumes, even sharing their headgear. Thank you Corbin!
Week 7
Harvest Celebration Day - All the class took part in different activities linked to harvest time, joining in with different classes and travelling to different areas in school. It was great fun for everyone.
Week 7 Star Of The Week
Our super star this week was Sahil for joining in with his peers and his interactions with adults in the classroom. He also tried really hard to ride his bike. Well done.
Happy Birthday to you!
George had a lovely time celebrating his birthday in week 6
10.10.19
Week 6 Star Of The Week
Our super star this week is George who is fantastic at tidying up. Once he hears our 'Tidy up' song he will stop what he is doing and help to tidy away the continuous provision resources.
10.10.19
Dear Zoo
Dear Zoo is our book for the next couple of weeks everyone has enjoyed looking at the pictures, listening to the story, naming the animals and making their sounds and matching animals to pictures and identifying animals from a verbal cue. The puppy got the most cuddles!
Week 5 Star Of The Week
This week our super star is Dexter for some fantastic walking and making new friends in Ladybird class.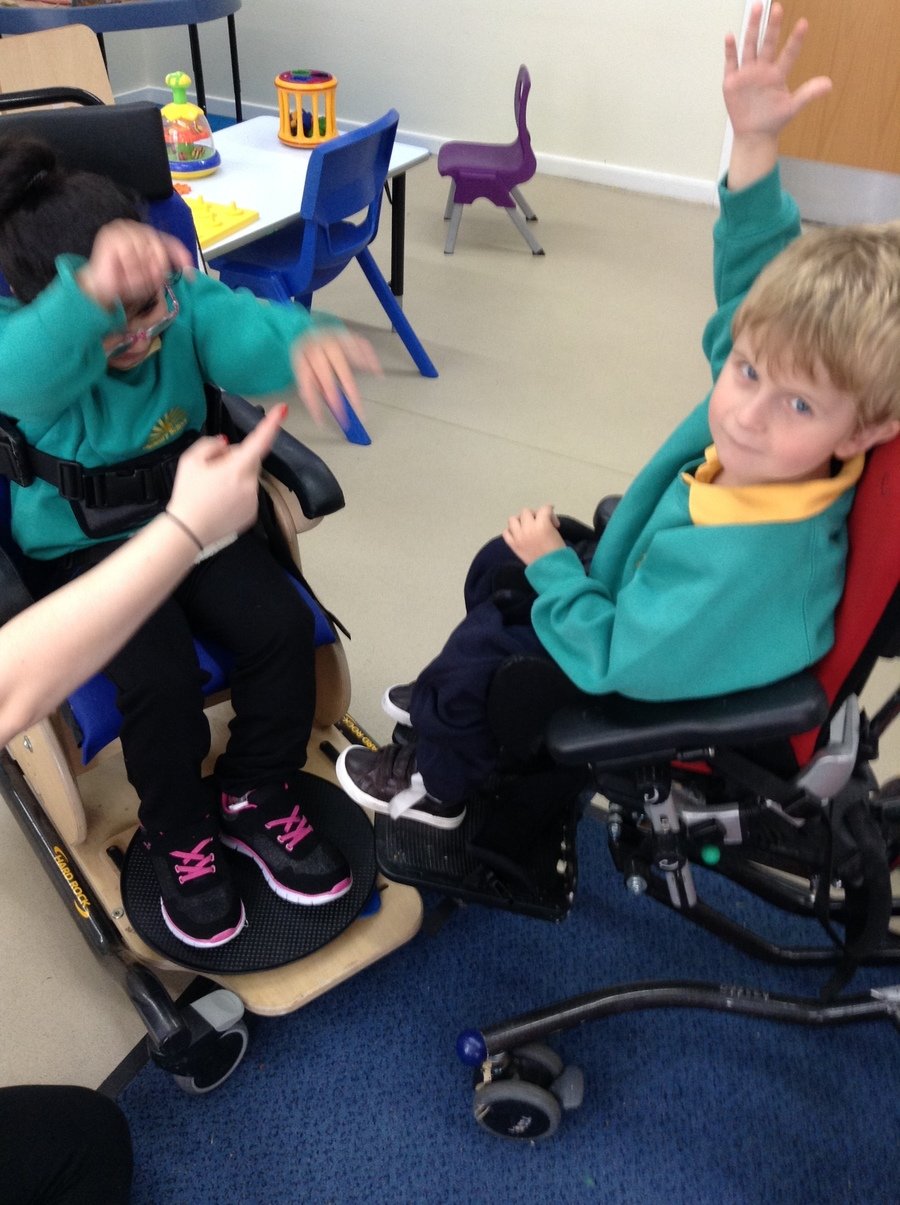 04.10.19
Harry and his bucketful of dinosaurs.
This week we have been busy playing with dinosaurs in 'mud and gloop.'
All the children enjoyed collecting plants and garden bits in their buckets for the dinosaurs back in class.
We even collected a bug, Hassan wasn't too sure though!
After all the mud the dinosaurs were scrubbed clean.
Week 4 Star Of The Week
We were so proud of everyone in Ladybirds when they visited the fire engine they were all Super Stars this week!
27.09.19
Fire! Fire!
Ladybirds have loved investigating the coloured rice this week, especially with the fire engines. Then printing with fiery colours using a range of tools, they especially liked the rubber ball as it felt very slimy!
On Thursday morning everyone was very excited to see the fire engine in the playground. We sat inside and looked at all the equipment the firemen use.
It was very noisy when the sirens went off - everyone jumped!!
Week 3 Star Of The Week
Is a young man who loved pretending to be George from Peppa Pig in the mud kitchen..........jumping in all the muddy puddles!
19.09.19
We have been music makers over the past couple of days making lots of different sounds with household objects, so they may try this at home!
18.09.19
On Wednesday everyone had great fun investigating the mud kitchen, mixing vegetable stew, tasting herbs and lettuce, transporting the crockery and splashing in muddy puddles!
13.09.19
Friday chill out time in the sensory room!
Relaxation was the theme after a busy week!
12.09.19
We decided it would be fun to walk and make roller prints at the same time, it took a lot of concentration doing everything together and not bumping into our friends coming the other way!
19.09.19
Hello and welcome, The Ladybirds have landed!
We have had a very busy 3 weeks.......Settling into routines and exploring new areas in and outside school.
These have included the mud kitchen, Bouncy Bodies, swimming pool, the hall and sensory room.
Ladybirds have been making friends and working together and learning new skills.
We hope you enjoy our photo gallery!